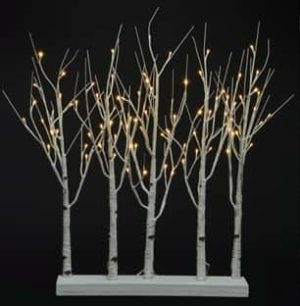 €

99.95
A perfect piece for your mantlepiece, shelves or windowsill. This row of five wintry trees is adorned with wonderful LED Christmas lighting.
Features
Set of five 75cm (2.5ft) birch trees
88 warm white LED lights
AC Cable Included. Approx. 386cm long
Power mains, max 3.6w
Input 220-240v, output 24v
Add to cart
Why buy Artificial Twig Christmas Tree
At Christmasland, we are proud to stock a large selection of Artificial Twig Christmas Trees. A Christmas tree with a difference. These trees are made up of twigs with fantastically bright LED lights. These LED Xmas trees are perfect for brightening up your outdoor displays or for creating a minimalist indoor display that focuses on the LED light. Smaller variations of these LED Christmas trees make excellent centrepieces at home while the larger ones are superb corner and floor decorations for businesses. These artificial twig Christmas Trees are a superb way to decorate your place. Browse our range now, order online and get free prompt delivery on all orders over €150 online throughout the Republic of Ireland. Check also our best range of
artificial Christmas trees in Dublin
.
Our artificial twig Christmas trees
Our artificial LED Christmas trees come in many different styles and varieties. From wonderfully minimalistic fibre optic branch style trees like the Ramon LED which look sleek and modern, perfect for businesses. We also have wintry style twig LED Xmas trees which give the impression of a frosted over a festive tree with wonderful LED lighting. Choose from many styles from unique "weepy willows" which drape their lights to large white Xmas birch trees with their realistic style and exceptional LED light placement perfect for indoor and outdoor scenes. We also carry berry LED Xmas Trees which adds a bright red glow of winter berries alongside with twinkling LED lights for an amazing sparkling shine. With the variety of choice, there is sure to be a LED Christmas Tree to suit your needs.