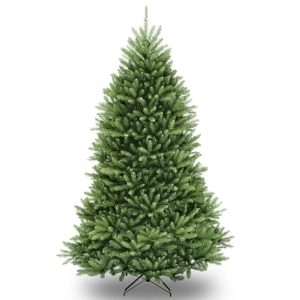 €

139.00
A wonderfully realistic tree with an eye for detail. The Dunhill fir is crafted with both realistic looks and longevity in mind.
Features 
6 ft (183cm) including base
117cm (46" inch) diameter
1430 "Feel Real" Branch tips
Complete with quality folding metal stand
Easy setup: hinged sprung branches means setup can take as little as 3 minutes!
Highly realistic, premium quality Christmas tree
No mess, no fuss, and will make Christmas a hit for years and years
Product on backorder; estimated arrival time: end of September.
Select options
Our most popular size of the artificial Christmas tree. Our range of 6ft and 7ft Christmas trees is vast with many different styles. These trees are made with wonderful detail and incredible realism. Our Christmas trees are sourced from some of the top companies in the US and Europe. Built with durability and ease of use in mind. These trees are designed to be used year after year. With so many choices to choose from. Our range of Christmas Trees is sure to delight.