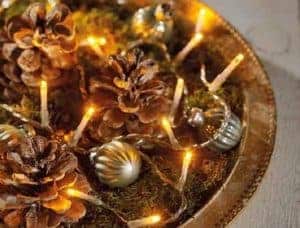 €

9.50 –

€

29.95
The Durawise Battery lights with the transparent Cable are available in warm white:
Features
Battery operated string lights with twinkle effect
Warm white lights
Burns 6 hours every day
Working hours: approx. 360 hours
8 functions memory controller
Suitable for indoor and outdoor use - lights protected from the intrusion of water (IP44)
Transparent cable
Sizes
24 Lights (1.7m, AA Batteries)
96 Lights ( 7.1m AA Batteries)
192 Lights (14.3m, AA Batteries )
Enquire about this product
You're browsing Ireland's very best selection of battery powered Christmas lights. They are easy to set up and many come with timers. Various colours, styles and configurations are available. Enjoy the convenience of battery powered-christmas lights!
Get free delivery on all orders over €95 online. Check also Ireland's best range of top quality
artificial Christmas trees
.