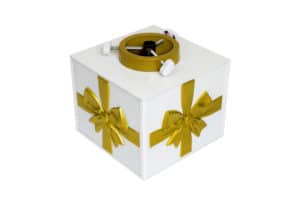 €

79.95
This Christmas Tree Stand is not only functional but also beautiful. The All About Christmas Tree Stand is designed to be seen!
Features:
One tree stand for both real Xmas trees (max. height: 2m) and artificial Christmas trees, including pre-lit trees (max. height: 2.3m)
Max. diameter of the tree trunk: 9cm
A 5 litre removable water reservoir to keep real trees fresh
Raises your tree up, loads of room for presents and even save money on a smaller tree!
Special channelling hides unsightly lighting cables and plugs
Unique flat pack design, can be put safely away after Christmas with all you other decorations
Add to cart
<h1><b>Do you need a Christmas tree skirt?</b></h1> A Christmas Tree skirt is a perfect addition to your Christmas Tree. It adds an additional layer of decoration to your Xmas tree and can really complement the look of your Christmas decorations. Christmas tree skirt is also a handy way to cover up your Christmas tree stand and hide away the basic stand included with your festive tree.
<h1><b>How big should your Christmas tree skirt be?</b></h1> For your Christmas tree skirt. It will always depend on the size of the tree. For an average of six to a seven-foot tree the ideal stand will be 48-56 inches. For a slimmer pencil-type tree, the Christmas Tree stand should be around 48 inches. A good Christmas tree stand for Mini Christmas trees can be between 15 and 21 inches. There are many different ways and many different Christmas Tree stand covers so it's best to pick the one that suits your decoration style.