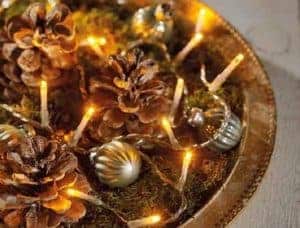 €

9.50 –

€

29.95
The Durawise Battery lights with the transparent Cable are available in warm white:
Features
Battery operated string lights with twinkle effect
Warm white lights
Burns 6 hours every day
Working hours: approx. 360 hours
8 functions memory controller
Suitable for indoor and outdoor use - lights protected from the intrusion of water (IP44)
Transparent cable
Sizes
24 Lights (1.7m, AA Batteries)
96 Lights ( 7.1m AA Batteries)
192 Lights (14.3m, AA Batteries )
Select options
How to decorate your house for Christmas
Here at ChristmasLand we are proud to stock a huge range of top quality Outdoor Christmas Lights. We have a large range of connectable LED mains powered lights, battery powered lights, icicle lights and more, all in various lengths and styles.We also have outdoor LED reindeers in offer! With our Outdoor Christmas Lighting Solutions, you can decorate the front of your home or business with some amazing displays. Our products are made of modern parts and designed to be durable. Many of our range even include timers that allow you to automatically set when you want your lights on and turn them off. This is perfect for power saving and keeping costs down.
Our outdoor Christmas Lights
At Christmasland.ie our huge range of outdoor festive lights features many different designs and options that are perfect for your home and business. One of our biggest selling ranges in our selection is our range of Battery Lights. These festive lights run off standard batteries and don't need any electrical outlet but the modern LED bulbs still shine just as brightly. Our Outdoor Christmas range is made with modern LED lighting. These products are designed to be durable and last a significant amount of time before burning out.
Tips for Hanging Outdoor Xmas Lights
While it can be daunting to decide how many outdoor lights you need for your home. A good start would be 100 lights per 1-½ ft of area that you want to cover. Instead of using nails to hang your outdoor Christmas lights. A good idea would be to buy some clips from your local DIY store and to use them on your gutter or roof to keep them secure.This will ensure that you don't have to put in unsightly holes on your property and can also have a setup you can use the next year.
Can all Christmas lights be used outdoors?
Not all Xmas Lights can be used outdoors. Indoor Christmas lights tend to have much lighter power cables that can break easier. Outdoor Christmas Lights have much tougher cables designed for outdoor use. Many of our electrical powered range uses IP20 or IP44 waterproof rated plugs. We still recommend the use of a drybox. Especially with how quickly Irish weather can change during the month of December.
You're browsing Ireland's very best selection of outdoor Christmas lights. Whatever your outdoor Christmas lighting requirements, please feel free to call us on 01 2960212, we will be delighted to help. Get free delivery on all orders over €95 online within the Republic of Ireland. Check also Ireland's best range of top quality artificial Xmas trees.