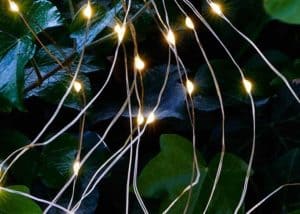 €

39.95 –

€

69.95
Each light set contains up to 30 strands of fine clear cable that are bunched together at the top. Each of the strands will have numerous tiny micro Led lights. There is a very subtle variation with the introduction of a tiny flashbulb tastefully situated at various positions to suggest movement.
The Micro Led Lights with Flash come in two sizes
1m long with 160 lights (approx 15 Strands)
1.9m Long with 640 Lights  (32 strings)
What do you need to know
Colour of lights: Warm White
Twinkle effect
Colour of Cable: Clear Fine
Mains Powered with Transformer Plug
The plug must be kept dry - dry box recommended
Lead cable: 8m
Suitable for indoor and outdoor use
Enquire about this product
You're browsing Ireland's very best selection of indoor decorative & novelty lights. These lights have handcrafted lanterns and are beautifully ornamented. With any of our crystal chic or oriental style lights - your Christmas decorations are to destined to be the envy of your family and friends. Get free delivery on all orders over €95 online within the Republic of Ireland. Check also Ireland's best range of top quality
artificial Christmas trees
.