€

48.95
Bring a touch of glamour into your home this festive season with this Glittery Bristle Pine Wreath. This wreath brings a frost tipped touch with many finely crafted details.
Features
Diameter: 24″ (60cm)
144 Real Feel Branch tips
50 battery operated Warm White LED Lights
Includes white-tipped cones
Battery operated – requires three AA Type Batteries (not included)
Automatic timer included
Suitable for indoor and outdoor use
Read more
€

49.90
Extend a warm and festive welcome to your friends and family with this exceptional Wreath. Comprised of 160 "Real Feel" branch tips for exceptional and stunning realism.
What do you need to know:
Diameter: 24" (60cm)
160 tips
Realistic looking "Real Feel Tips"
Comes with 50 warm white battery operated LED lights with timer
Batteries required (Not included)
Read more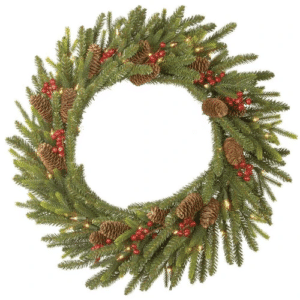 €

59.95
A wonderful spiral style Christmas wreath. The Dorcester Fir Christmas Wreath comes packed with stunning details.
Features
Diameter: 24" (60cm)
300 "Feel Real" Branch tips
50 warm white LED Lights
LED lights are energy-efficient and long lasting
Beautifully detailed berries and pine cones
Battery operated with integrated 6-hours on/18-hours off timer, 3xAA batteries required (batteries not included)
Timer included
Indoor or covered outdoor use
Add to cart
How to decorate your home with Pre-lit Christmas Wreaths
At Christmasland.ie we are extremely proud to offer you a selection of Pre-Lit Christmas wreaths. They are an excellent addition to your Christmas decorations on your front door to welcome visitors to your home. But did you know that holiday wreaths make excellent in-home decorations as well? You can hang them from your windows for a really festive display. Use them as a tabletop centrepiece. Or even use your pre-lit Christmas decoration as a piece of wonderfully festive wall art.
Why select pre-lit Christmas Wreath
At Christmasland.ie, we stock a wide variety of Xmas wreaths and they have remained popular with our customers year after year. Many of our Xmas Wreaths with lights come with features like light timers which allow you to set the time you want your festive wreath to turn on as dusk falls then turn off automatically at night to save battery or mains power. Our Pre-Lit Christmas Wreaths also use long-lasting and durable LED lights for a brilliant shine that works well with batteries. Please check the product descriptions of our festive wreaths with lights online to see the vast amount of features they offer.
Light up the way to your home this Christmas with our range of Christmas Wreaths
Featuring many different styles of traditional holiday wreaths. Our wreaths are exceptionally durable and feature high quality LED lighting. This LED lighting provides a wonderful bright shine and is extremely power efficient.  We have many different Christmas wreaths to suit your welcoming needs and are designed to last and welcome visitors to your door for years and years. You're browsing Ireland's very best selection of Pre-Lit wreaths featuring durable LED lights. Various styles are available. Get free delivery on all orders over €150 online. Check also the best range of top quality
artificial Christmas trees in Ireland
.