Collection Only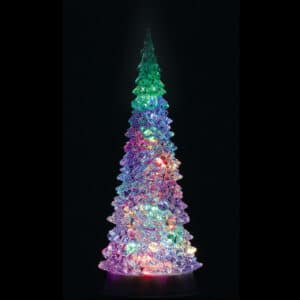 €

24.95
Elevate your space with the mesmerizing Lemax Crystal Lighted Tree, a captivating decor piece that offers a delightful color transformation. This unique tree is designed to create a captivating visual experience with its 4-color lights. Watch as it gracefully transitions through a spectrum of colors, adding a touch of magic to any setting. It's the perfect addition to create a calming and colorful ambiance in your home or office. Illuminate your surroundings with this extraordinary piece and embrace the captivating beauty of color transformation.
Features
Size (HxWxD): 28.6 x 11.4 x 11.4 cm
Made of: 

Plastic

Product type: 

Tree

Control switch: 

On/Off switch

Batteries: 

Uses three AA-size 1.5V batteries (batteries not included).

Electrical: 

A/C adaptable by using a Lemax Power Adaptor (Adaptor is not included).

Current: This unit will draw approximately 200 mA.
This item is available for collection only in our showroom. Due to the fragile nature of this product, shipping service is not available.
Add to basket