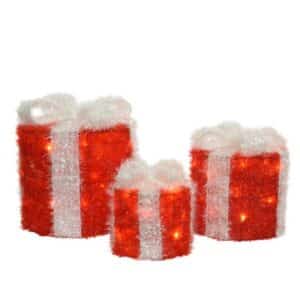 €

59.96
A wonderful LED light Christmas decoration for home or business. These LED gift boxes give off a brilliant shine with their warm white LED bulbs.
Features
Set of 3 LED red gift boxes with white ribbon
Dimensions: 15x15x18cm- 1 5 Lights 20x20x25cm - 20 Lights 25x25x30cm - 30 Lights
3 x AA batteries per box required (not included) for an operation time of 120 hours
Six-hour timer included (6h on & 18h off)
Working hours: approx. 120 hours
For indoor use only
Add to cart

€

695.00
Bringing the joy of the north pole to your home. These elves are joyfully expressing the spirit of Christmas.
Features
Dimensions: 59"H x 17.5"W x 20.5"D
Pre-lit with 50 multicolour LED lights
LED bulbs are energy-efficient and long-lasting
Material(s): wood/plastic/LED
For indoor or outdoor use
Packed in reusable storage carton
Add to cart
How to decorate your space with 3D Led Christmas Figures
Make a real statement outdoors this year with our 3D Christmas LED Christmas Figures. Our 3D LED Figures bring amazement and wonder to your family or customers year after year. They are a perfect way to decorate your house, hotel grounds or shop windows. They come equipped with durable and energy-efficient LED lighting. Providing an exceptional glow. Made from extremely durable material meant to survive the harsh winter. These 3D Xmas LED Figures make incredible displays outdoors or indoors. Make your own Santa's barn with our outstanding 3D Reindeer LED Figures. All our Reindeer 3D Figures are adapter based so a dry box is recommended. Adopt one of our Christmas Reindeer today!
Our 3D LED Christmas Figures
Our 3D LED Christmas Figures to go beyond 3D Led Reindeer. Pick up an amazing polyresin Santa or Snowman or show off some impressive LED Christmas Boxes. Our range of 3D LED Festive Figures contains durable and long-lasting LED lights for excellent battery life and longevity. These items are perfect for outdoor or indoor home decoration or window displays in your business. Our range of 3D LED Xmas Figures are sure to be a staple in your home or business for years to come.