€

135.00
Such a popular item, this acrylic reindeer piece is a must-have four your outdoor area this Christmas. Available in two sizes, 90 cm and 120 cm tall,  with a warm white Led glow, this reindeer is suitable for outdoor use.
Two sizes available
90 cm - with 80 Lights, size: 59 x 19.5 x 90cm - sold out
120 cm with 120 Lights, size: 77 x 25 x 120cm
Enquire about this product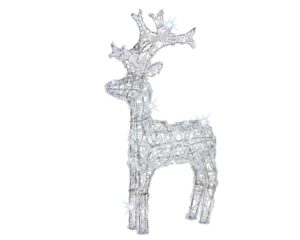 €

135.00
A popular item every year, this acrylic reindeer piece now comes in a beautiful "Cool white" powered by powerful but also energy-efficient LED light bulbs.
What do you need to know
80 Cool white LED lights
Transparent Lead cable 8m with an IP20 transformer plug
The power source must be protected from the elements
Dry box recommended
Enquire about this product

€

695.00
Bringing the joy of the north pole to your home. These elves are joyfully expressing the spirit of Christmas.
Features
Dimensions: 59"H x 17.5"W x 20.5"D
Pre-lit with 50 multicolour LED lights
LED bulbs are energy-efficient and long-lasting
Material(s): wood/plastic/LED
For indoor or outdoor use
Packed in reusable storage carton
Enquire about this product
A popular choice for front garden light displays. Our 3D LED Christmas Figures bring amazement and wonder to our customers year after year. Made of durable construction that stands tall in the weather. They come equipped with durable and energy-efficient LED lighting. Providing an exceptional glow while also. Find a perfect piece for your window or standing in your front garden. Adopt one of our 3D LED Reindeer for your home today.