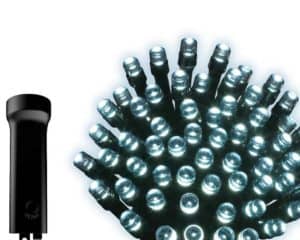 €

9.95 –

€

49.95
Durawise Battery lights have proven to be a real winner in Ireland over the past few years. They now come with the inbuilt timer technology from Durawise, and the variety of string sizes to choose from.
Features
Battery operated string lights with twinkle effect
Cool white lights
Burns 6 hours every day
Working hours: approx. 360 hours
8 functions memory controller
Suitable for indoor and outdoor use - lights protected from the intrusion of water (IP44)
Dist. battery holder
The Durawise Battery lights Ice White  are available in 4 sizes:
24 Lights (1.7m, 3 x AA Batteries - not included)
96 Lights (7.1m, 3 x AA Batteries - not included)
192 Lights (14.3m 3 x AA Batteries- not included)
368 Lights (27.5m 3x D batteries - not included)
Enquire about this product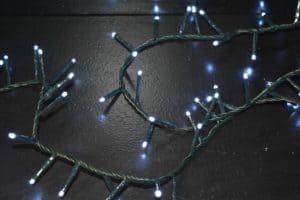 €

59.95
As with all of our LED Lights, the Compacts can be used indoors or outdoors. Compact means that the number of lights per metre of cable increases, so that you can now have much greater effect lighting without having to overlap many times.
Features
750 Lights (16m cable)
Lights colour: cool white
8 functions (including static)
8hr timer
Lead cable: 8m (green colour)
Distance 1st-last bulb: 16m
Total length: 24m
Enquire about this product